Located behind the 13th century Cathedral, Posada Terra Santa is singular among hotels in Palma de Mallorca. Nestled between courtyards and narrow streets, in a unique corner right in the heart of the Historic Centre of Palma de Mallorca and very close to the sea, you'll find this mansion that is over 500-years old and that today houses the Posada Terra Santa Palma de Mallorca Hotel. This boutique hotel is a symbol of elegance, comfort, design and the latest technology on the island, truly exceptional among hotels in Palma de Mallorca. Wellness area, heated pool, chill-out rooftop, fitness centre, library, restaurant (one of the most highly-acclaimed in the city) and 26 exclusive rooms designed to make each visitor feel like a guest of honour. 2016 recipient of the TripAdvisor certificate of excellence and 2017 Travellers Choice.
The various spaces at the Posada Terra Santa can be transformed into the perfect venue to organize your event with the warm hospitality and uniqueness that will make it stand out from the usual Mallorca conference hotels. A boutique hotel in Mallorca that features elegant meeting rooms and private booths that recall the times of the private clubs of yesteryear. Whether it's organizing dinner with friends, company meetings, presentations or work sessions, or weddings in Mallorca, if you're looking for a special place, you'll find it at Posada Terra Santa.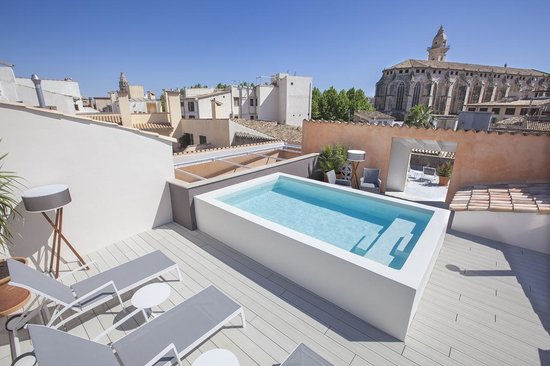 Reviews
There are no reviews yet, why not be the first?